Backyard weddings are intimate, cozy, budget-friendly, and convenient. Whether you want to create a casual, rustic vibe or an elegant and unforgettably dreamy atmosphere, you can transform a backyard into the wedding venue of your dreams.The key to turning your yard into an event space is in the décor. With a few backyard wedding decorations like tablecloths, flower arches, reclaimed wood pathways, string lights, and cozy furniture in place, you won't even recognize the landscape.
Tips on Hosting the Perfect Backyard Wedding
Backyard wedding venues often start with a blank canvas where you can let your creativity and personal style run wild. Keep these tips in mind as you start planning your dream wedding and choosing backyard wedding décor.
Save the Date
If you want to rent a traditional wedding venue, you likely have a limited number of options for when your event can take place—it all depends on whether another couple has claimed the space before you. Fortunately, when you plan a backyard wedding, there's little (or no) competition! You don't have to plan years in advance or get stuck with the next available weekend. Instead, you can choose the date that works best for you.
Think beyond the date itself: Consider the season as well. Each month has its own look, feel, and color options. Figure out what speaks to you.
Have a Backup Plan
Planning an outdoor wedding? You always need a backup plan.
In case of rain, you need to either have an indoor space available or have a tent at the ready. For windy days, make sure you bring clips to secure linens in place. If the weather gets chilly, have blankets on hand to keep guests comfortable.
Take Care of the Lawn and Landscaping
Basic lawn care like mowing, weeding, and gardening is a great start to creating the backyard wedding venue of your dreams. Additionally, make sure the ground is level so your guests don't trip. And, if possible, enhance the existing landscaping with more florals in complementary colors.
Divide Up the Space
Depending on how much space you have to work with, try to create designated areas for guest arrivals, the wedding ceremony, the reception, and the after party. With separate areas, you will be able to keep the flow of traffic steady and avoid having to flip the space between events.
While the wedding ceremony will likely have an eye-catching focal point like a wedding arch or gazebo as well as rows of chairs, the reception area will contain tables, chairs, and a dance floor. After-reception activities should occur in a cozy area. 
Each part of your wedding needs its own designated space.
Consider the Dance Floor
Dancing on grass is more difficult than you might think. Unless you have a paved courtyard area, you may want to bring in flooring to provide a smooth dancing surface. 
However, if flooring is out of your budget, make sure to tell your guests to wear appropriate shoes. Lawns and stilettos are a recipe for disaster.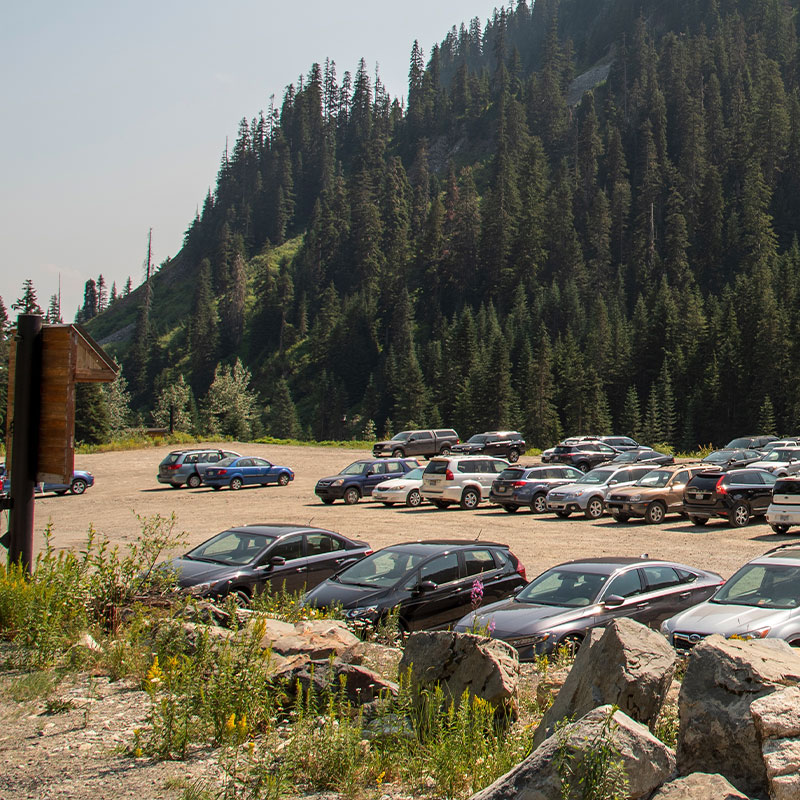 Provide Parking and Facilities
Where are guests going to park? Is there enough space on your block for their cars or a nearby parking lot they can leave their vehicles? If you don't have ample parking available, encourage guests to carpool or take a taxi.
What restroom facilities are available for guests? For a small wedding, one bathroom may be enough. For a larger event, consider renting a restroom trailer to prevent a long queue.
Arrange for Music
Every wedding needs music! Either create a stage for a live band to play on or set up a sound system and prepare a music playlist ahead of time.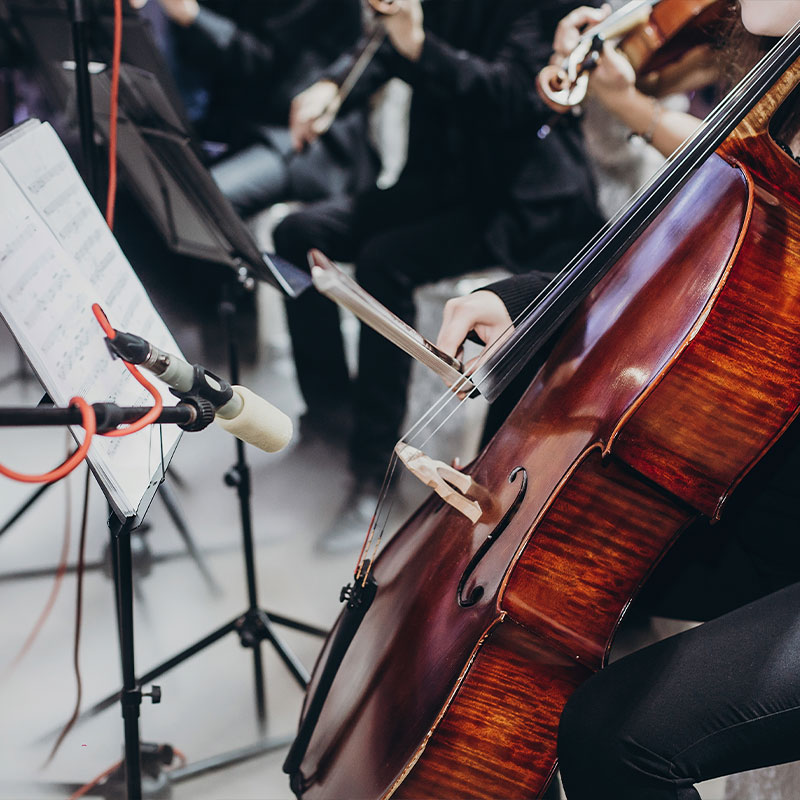 Rent Furniture and Décor
Traditional wedding venues likely have options for using or renting furniture like tables, chairs, arches, utensils, table linens, and more. A backyard doesn't have those items on hand, so it's up to you to get them.
Some couples prefer to shop vintage or thrift stores for these items, but you can also rent anything from glassware and arches to table linens and chairs—and the advantage of renting instead of buying is that you don't have to worry about what to do with the furniture after you say "I do."
Plan for Sunset
How will your guests see when it gets dark? When the sun sets, make sure lighting like string lights, candles, chandeliers, or lanterns are in place. All areas of your backyard need to be illuminated so guests can navigate the venue and continue to have fun, even after dark.
Talk to the Neighbors
Be a good neighbor: Let the neighbors know in advance that you'll be hosting a one-time event in your backyard, and provide them with a contact person in case they have any issues on the day of the wedding. They'll be more likely to let things slide and deal with a bit of noise if you treat them with respect.
11 Unique Backyard Wedding Décor Ideas
Wedding decorations should be personal. The best part about hosting a backyard wedding is that you can reflect your aesthetic and make décor choices that are meaningful to you. Instead of being limited by the options of a traditional wedding venue, you can create any ambiance you want and decorate it your own way.
Whether you want to add bohemian wedding elements or take advantage of the outdoors and set a romantic garden party vibe, you're free to build the space of your dreams.
01 Hang Porch Swings
For a touch of nostalgia your inner child will love, hang porch swings from trees or under a gazebo. They are the perfect visuals for outdoor wedding pictures, give you and your guests a break from standing, and provide a romantic backdrop for your big day.
02 Design a Stunning Tablescape
When it comes to outdoor events, the tablescape is the star of the show. Create visual depth with printed table runners, use greenery as centerpieces to mimic the backyard shrubbery, and add chargers or placemats to tie the theme together.
03 Use Drapery to Create a Tent
Why not add a faux ceiling over the dance area with draped fabric? You can also use drapery to build a wedding arch or curtain off areas of the space—either way, add string lights or flowers to the fabric for a dreamy effect.
04 Display Photographs
A photo display gives your guests a chance to interact with the decorations and admire your history as a couple. Everyone loves to see pictures of the newlyweds, so create a display out of ladders, window frames, or old doors to draw their attention.
05 Add Pops of Color
There are endless opportunities for color, even in a backyard wedding! Add printed pillows to chairs, tie colorful bows around fabric elements, and incorporate florals wherever possible. Colorful decorations will pop against the landscape.
06 Illuminate the Space with String Lights
String lights and backyard weddings go hand in hand, and they're a classic choice for a reason: They're romantic, add instant warmth to your backyard, photograph beautifully, and illuminate the space. 
Hang string lights on shrubs or between tree branches, wrap them around the gazebo or canopy, or arrange them above seating areas to give your guests soft, ethereal light after it gets dark.
07 Create a Pathway
A plain grass lawn makes it difficult for your guests to know exactly where to walk. Using reclaimed wood, flower petals, lanterns, rugs, or greenery, mark a path for your guests to make their way through the festivities and for you to walk down the aisle. 
08 Get Inspiration from Existing Elements
What is already in the backyard, and how can you use it to your advantage?
If there's a clothesline, use it to hang photos or escort cards. If there are a lot of trees, wrap string lights around the trunks. If there are flower beds, use the same bulbs in your wedding bouquet. The options are endless.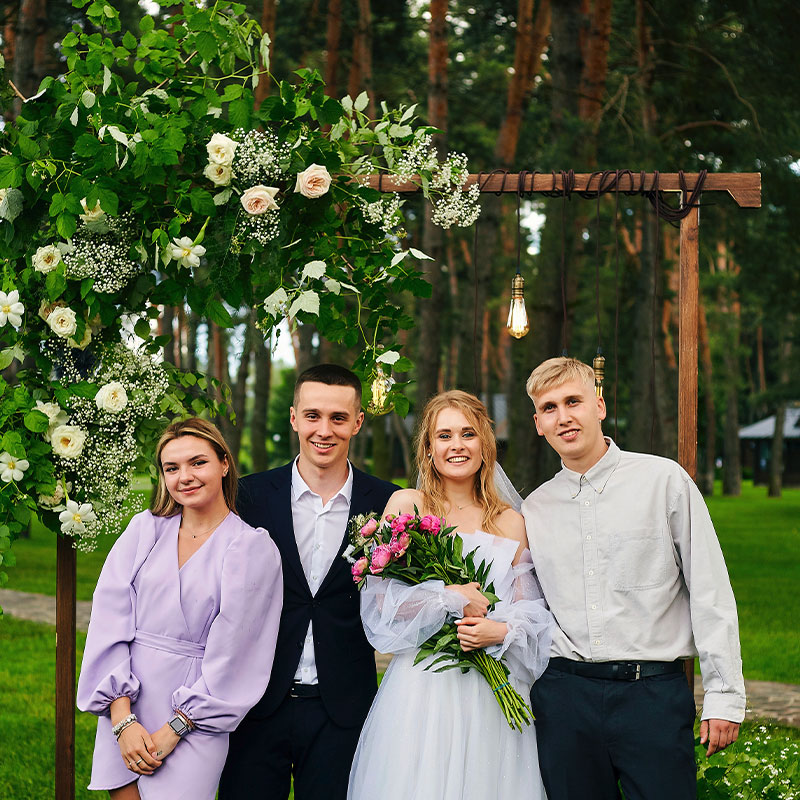 09 Build an Entrance Arch
Don't forget about the entryway—it should wow your guests as they enter the backyard. Build an arch with branches, leaves, flowers, and vines to take advantage of the surrounding nature.
10 Keep the Little Things in Mind
The smallest details make the biggest difference. For example, get napkins that perfectly match your wedding colors, set up a firepit for after-dark gathering, and attach place cards to the centerpieces so they don't blow away in the wind.
11 Mix and Match Decorations
Not everything has to be uniform. You can mix and match patterns, colors, and styles to your heart's content—that's the freedom of a backyard wedding venue! Do you want to use multiple patterns in your color scheme or mix an assortment of vintage and glass tableware? The choice is yours.
Create Custom Backyard Wedding Decorations at Lola Valentina
At Lola Valentina, we can help you decorate your backyard wedding space with unique table linens, runners, napkins, chargers, placemats, and more. You can shop our revolutionary design house to mix and match our selection of original designs, or you can work with our team of in-house designers to create a custom pattern that matches your wedding theme. Visit our design bar to explore color and pattern combinations until you find just the right look for your wedding.
All our items are environmentally conscious and proudly crafted in the United States.
Are you ready to bring your event design ideas to life? Talk to a designer today to get started.