Your wedding should represent you—your style, your romance, and your story—from the venue and table linens to the bouquet and music. One of the first (and most exciting!) parts of planning your special day is choosing a theme. The possibilities are endless, from garden-themed weddings to modern and edgy wedding themes. Choose a wedding theme that fits your vision.Do you find the beauty in imperfections? Are you interested in a nontraditional, carefree vibe to your wedding? Would others describe you as confident, easy-going, and ready to challenge the status quo? If so, a bohemian wedding theme may be right for you. 
WHAT IS A BOHEMIAN WEDDING THEME?
Bohemian, or boho, is a chic, vintage style that combines trends from the late 1960s and early 1970s with a bit of modern flair. Think earthy elements, dreamy linens and lace, and lots of wildflowers.
Boho wedding themes are all about free spirits, hippie-inspired whimsy, and an eclectic mix of textures and colors. They can range from simple and artsy with a few boho-inspired touches to all-out festival style. 
The rise in popularity of bohemian wedding themes is easy to understand. Boho weddings can be simple and filled with DIY projects that save money and let artistic talent shine. Anything goes! They can also work with any budget, from expansive to extremely limited. And most of all, boho wedding themes are popular because no other style compares. The variety of textures, colors, prints, and art pieces is attractive to anyone looking for natural, casual beauty.
Compared to other, more traditional wedding themes popular today, bohemian wedding themes don't require everything to match perfectly or meet a strict set of fashion rules; instead, when you plan a boho wedding, you're free to pick and choose the elements you love most. 
Bohemian style isn't just about freedom of expression—it's about your freedom to express yourself. Your wedding is your time to shine, and no theme lets you do so more than boho.
TYPES OF BOHO WEDDING THEMES
Once you have decided on a bohemian wedding theme, you may notice there are a few different styles you can choose from. Some are inspired by music festivals and hippie fashion, and others are more along the lines of cottagecore garden vibes.
Nevertheless, all types of boho wedding themes have a few things in common: They are effortlessly stylish, laid-back, artsy, and ethereal.
RUSTIC BOHEMIAN WEDDING THEME
A boho rustic wedding theme combines farmhouse style with a free-spirited bohemian vibe. 
While traditional rustic wedding themes may use a more neutral color palette, shake things up by adding some bright, boho-inspired colors. One easy way to mix the themes is to slightly subdue bohemian tones to better match a rustic theme. For example, yellow becomes mustard, blue becomes navy, and orange becomes rust.
Another important element of a rustic bohemian wedding theme is texture. A hallmark of boho style is macrame, so use woven elements and fringes in your rustic décor. Pay attention to the accessories, too. Both styles pride themselves on eclectic art choices, so now is the time to decorate with geometric shapes, mismatched jars, and antique decorations. 
Lots of natural elements would be perfect for a boho rustic wedding theme. Wood details, cactuses, succulents, wildflowers—anything you can do to celebrate the natural beauty around you is a great choice for this wedding theme.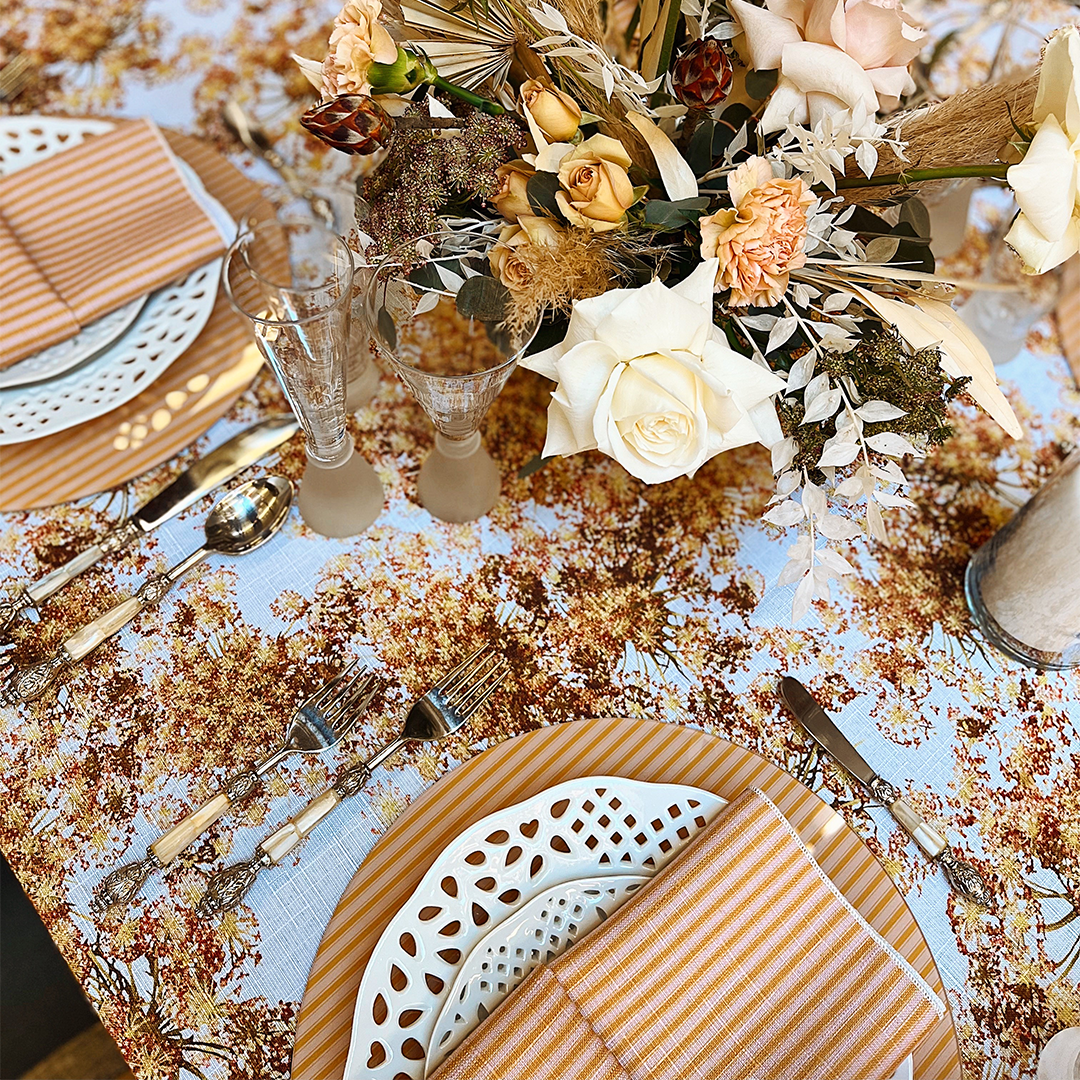 VINTAGE BOHEMIAN WEDDING THEME
If you're inspired by hippie, festival vibes, a vintage boho wedding may be the right fit for you. There are endless opportunities to incorporate vintage pieces and styles into your event.
Look for a dress with vintage lace details, and consider choosing a one with a shape inspired by your favorite era. Find antique furniture from thrift shops to use as seating for your guests. Decorate your tables with lace table runners, and use printed flowers on your wedding invitations.
However you decide to bring vintage style into your modern wedding, you and your guests will be able to enjoy the day with a sense of wonder and whimsy.
ROMANTIC BOHEMIAN WEDDING THEME
Boho weddings are the perfect opportunity to let romance take center stage. You can bring in rustic and vintage elements too, but focus on creating a dreamy atmosphere filled to the brim with love. 
Choose a lighter color palette, with dusty pinks, soft reds, and ivory whites. Decorate with lots of florals and plenty of soft grasses—like a bouquet with a mix of dried flowers and pampas grass. When it comes to your dress, think lacy and flowing instead of the more old-fashioned dress shapes of the vintage style. And you can also add touches of velvet to really make the romance theme pop
Photographed by: Melissa Ferrara ⁠
Recommended Patterns
DESERT BOHEMIAN WEDDING THEME
The wild beauty of the desert is a gorgeous inspiration for a boho-themed wedding. Take advantage of the dry, stunning landscape by incorporating desert flora in your bouquet, decorating with pampas grass centerpieces, holding your ceremony under unfinished wooden structures, and lining the aisle with potted cacti.
Muted pastels and desert-inspired textures like leather, terracotta, and copper are a great way to add desert elements to your wedding theme. You can go further by adding crystals, geodes, and reflective surfaces that will sparkle in the sun.
BEACH BOHEMIAN WEDDING THEME 
A beach boho wedding theme conjures images of hanging lanterns, summer sunsets, a salty breeze, and toes in the sand. Create comfortable seating areas for guests to gather around a bonfire or guitar, find a shorter wedding dress to make it easy to walk in the sand, and wear your hair in beach waves. 
When it comes to beach boho décor, remember that you can't beat the view! Focus on enhancing it with shells, feathers, pebbles, and natural, earthy tones.
Photographed by: Jessica Lorren ⁠
ELEMENTS OF BOHO WEDDING THEMES
Bohemian wedding themes are unique to every couple. You can choose to fully embrace the theme or simply pick and choose a few items to incorporate into your day. Since the style means something different to everyone, the choice is yours.
If you're wondering where to start, take a look at these design elements that are popular with all kinds of boho wedding themes.
BEST BOHEMIAN WEDDING-THEMED VENUES
Your venue has a big impact on your wedding style. Since boho wedding themes have a free-spirited, laid-back style, look for spaces that match the feeling you want to create at your wedding.
Many bohemian weddings, especially boho rustic weddings, are held in outdoor venues. There are several possibilities:
Gardens

National, state, or local parks

Fruit orchards

Vineyards

Beaches

Farms or ranches

Campgrounds
Botanical gardens

Gazebos or pavilions

Backyards

Courtyards
Wherever you choose to host your wedding, you can create the bohemian event of your dreams. 
Bohemian wedding themes call for unique, nontraditional, and effortlessly stylish wedding dresses. Boho wedding dresses are often comfortable, flowy, and easy to move around in while also capturing the artsy and whimsical nature of the bohemian theme.
You have lots of styles and types of wedding dresses to choose from. Look for dresses that have one or more of these boho-inspired elements:
Lots of lace

Flowing skirts

Long, flutter sleeves

Off the shoulder

Backless

Fringe detailing

Bell sleeves

Minimal tulle and layers
Make your other fashion accessories fit your wedding theme, too:
Headbands

Flower crowns

Wide-brimmed hats

Colorful jewelry

Boots or flats

Simple veils
Don't be afraid to think outside of the box when it comes to color. Cream, ivory, pink, or even light green dresses are all a great fit for a bohemian wedding theme. And don't just stick to bridal boutiques; expand your search to vintage clothing stores and even thrift shops. Your perfect dress may be where you least expect it.
The best part? Since boho-style wedding dresses are more casual and less traditional, you can often save a lot of money.
BOHO WEDDING MENSWEAR
When planning your bohemian wedding, don't forget about the menswear! Ditch the suits or tuxes and instead go more casual and laid-back for your wedding day:
Suspenders

Converse

Dress shirts and khakis

Vests

Bow ties

Waistcoats

Pocket watches

Hats
Above all, remember that a boho wedding theme means you should be comfortable expressing your own personal style.
BOHO-THEMED WEDDING HAIRSTYLES AND MAKEUP
Your bohemian wedding is the perfect time to break out the natural look. Since the whole idea of a boho wedding theme is effortless beauty, consider wearing makeup that looks as natural as possible. You are the star of the show—not your makeup—so make it look like you're not wearing any at all!
When it comes to hairstyles, it's no surprise that boho conjures images of flower crowns and laid-back hairstyles. So, instead of slick buns or tight curls, consider messy buns, thick braids, loose curls, or tousled waves. 
Flowers are a fantastic way to incorporate your wedding's color scheme into your hairstyle, but flower crowns aren't the only way to do so! You can also weave flowers into braids or curls for a beautiful, casual, and elegant bridal look.
BOHEMIAN-STYLE FLOWERS AND BOUQUETS
When it comes to choosing your flowers and designing your wedding bouquet, focus on flowers that match your boho wedding theme.
For rustic bohemian weddings, try tying your bouquet with twine.

Use lace instead for a vintage look,

or velvet to inspire a romantic vibe.
The most important thing is to take advantage of the boho theme's natural beauty.
BOHO WEDDING THEME DÉCOR 
You have a lot of freedom in decorating your wedding venue and reception area with bohemian style in mind. Here are some of our favorite ideas for boho décor:
Use

linen

rugs as a dance floor and to line the aisle

(this pattern can align with your tabletop decor)

Create a geometric arch for your ceremony

Incorporate wicker and macrame items

Display tableware on

chargers or placemats

that accentuate the elegance and charm of your

tablescape

Decorate with succulents, cactuses, dried grasses, berries, and wildflower arrangements

Give vintage furniture new life with modern boho accessories

Add a

napkin

at each place setting that is tied with the same material you use for your boho bouquet (a special touch your guests will appreciate!)

Use thrifted glassware and old-fashioned dishes
To find décor, explore the unexpected. Shop at dollar stores, thrift shops, and even antique markets to find just the right pieces for your guests to admire. You can even DIY!
COLOR PALETTES FOR BOHEMIAN WEDDING THEMES
Boho wedding themes can incorporate essentially any color palette. They often highlight warm colors, like soft pinks, deep golds, and rusty oranges, but cool tones like sage are also popular. Whenever possible, include colors inspired by nature: wooden neutrals, floral pastels, and sunny yellows. 
Here are some patterns for your inspiration:
BOHO WEDDING FOOD AND DRINK
Depending on the atmosphere you want to create at your bohemian-themed wedding, you could choose a casual or more structured food and drink approach. 
One option is to have vintage-style food trucks for your guests to choose from or order food from a local restaurant. On the other end of the spectrum, you could hire a caterer and provide food family or buffet style. If you can, find wine and beer from local vineyards or craft breweries to further enhance your guests' wedding experience. Either way, you will be allowing the casual boho vibes to reign free.
Finally, when it comes to cake, a popular bohemian wedding theme trend is to have naked or semi-naked cakes for a more natural look.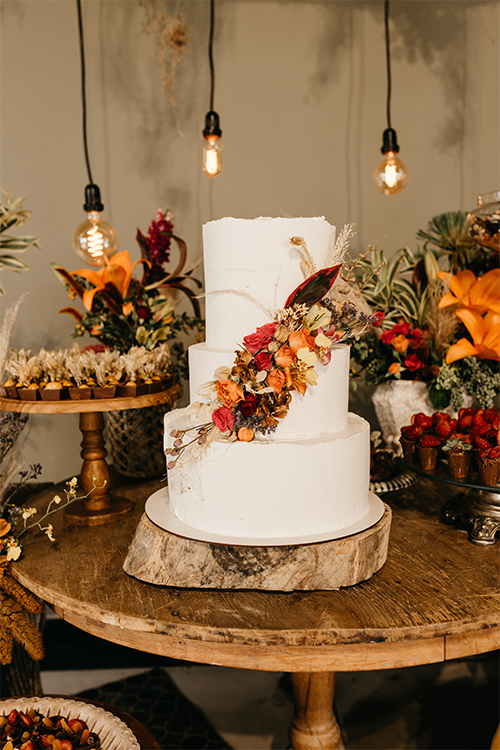 HOW TO PLAN A BOHEMIAN-THEMED WEDDING
Whether you DIY your ceremony or work with a team of professionals, wedding planning can be stressful. Fortunately, boho wedding themes are the perfect choice if you want to keep things simple and laid-back while also stunning your guests with natural beauty and an eclectic, whimsical atmosphere.
Your wedding is your day. Take advantage of the bohemian wedding theme by expressing your personal style; don't worry about the rest.