There is nothing better than a wedding that is personal and reflects what is important to the couple—and themed weddings are an excellent way to add personal touches to a wedding and reception. Typically, couples and wedding planners use a theme to help pull together all the various elements of the wedding into a unified vision. So, let's take a closer look at wedding themes, ideas, and colors for 2022.
WHAT IS A WEDDING THEME?
A wedding theme is simply an idea or concept that flows throughout the events and ceremonies. Every wedding has a specific theme that ties different aspects of the wedding together—and that theme goes way beyond just colors and patterns. Tabletop décor such as napkins, linens, table runners, and placemats/chargers are a great way to bring the theme of a wedding to life.
WEDDING THEME IDEAS FOR 2022
Here are some popular wedding themes to help set the tone for your 2022 wedding!
01 CLASSIC WEDDING THEME
A classic wedding theme typically includes:
Traditional ceremony
Soft color scheme
Timeless wedding dress
Classic bridesmaid dresses
Lace, embroidery, and/or rhinestones
Decorative ribbons and

placemats

Elegant and refined floral arrangements
Soft and subtle prints
02 BOHEMIAN WEDDING THEME
A bohemian wedding theme typically includes:
Personal and relaxed ceremony
Wooden arches, tables, and/or chairs
Floral or macrame

table runners

Flower crowns
Waterfall floral arrangements
Earthy decorations
Bohemian rugs and furniture
Light and flowy wedding dress
Multiple prints in a similar color palette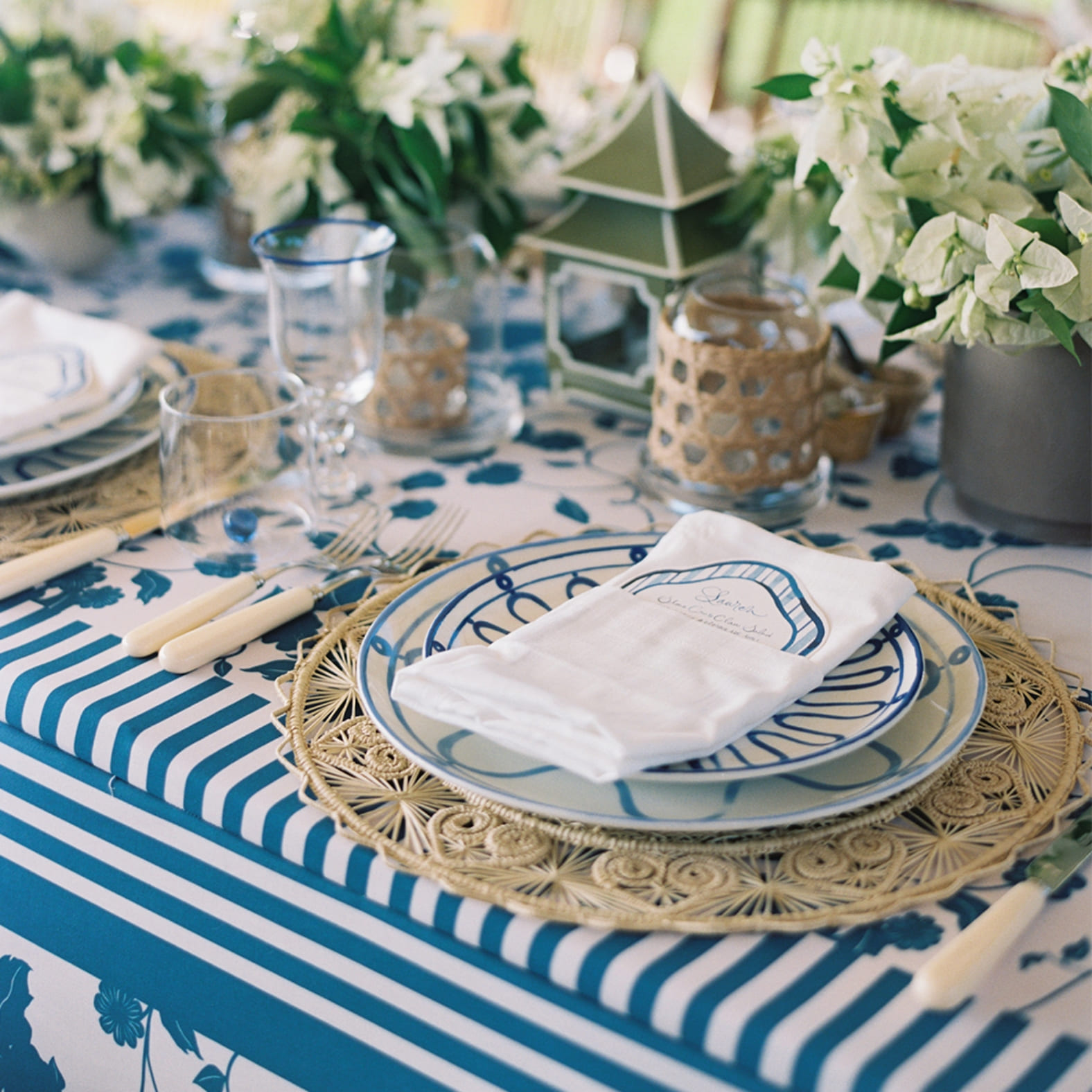 03 GARDEN WEDDING THEME
A garden wedding theme typically includes:
Outdoor ceremony and/or reception
Floral wedding invitations
Greenery centerpieces and

table runners

Floral arrangements
Botanical decor
Airy wedding dress
Free flowing bridesmaid dresses
04 RUSTIC WEDDING THEME
A rustic wedding theme typically includes:
Relaxed, casual ceremony and reception
Plenty of floral arrangements and greenery
Wooden furniture, signs, and décor
Mason jars and mismatched vases
Simple, natural, and earthy decorations
Natural textures
Rustic candles
Simple and natural flowing wedding dress
Marbled and Earth-toned florals for prints
05 VINTAGE WEDDING THEME
A vintage wedding theme typically includes:
Venue with classic architecture
Antique furniture and décor
Distressed, classic, and timeless décor
Linen

table runners

and tabletop décor
Brass cutlery and vintage bottles
Vintage-inspired wedding dress and/or hair style
Vintage-inspired bridesmaid dresses and/or hair styles
06 FRENCH WEDDING THEME
A French provincial wedding theme typically includes:
Vintage inspired décor
Brass cutlery
Pastel color palettes
Embossed invitations
Unstructured florals and trailing greenery
Lace accessories
Crystal mismatched bottles, bud vases, decanters, and chandeliers
07 MODERN TROPICAL WEDDING THEME
A modern tropical wedding theme typically includes:
Exotic floral arrangements
Vibrant color palette
Subtle tropical leaves
Combination of fruits, greenery, and candles
Pair natural and geometric pieces together
Textured place settings
Printed

table runners
UNIQUE WEDDING THEME COLORS FOR 2022
Here are some unique wedding theme colors to consider for your 2022 wedding:
Black wedding theme
Black and white combination
Dark or navy blue
Classic blue
Navy, white, and gold
Copper colors
Greenery tones
Dusty blue and blush
Moss and blush
Dusty rose
Berry pinks
Monochromatic color palette
Terracotta and rust
Champagne and neutral colors
Bold jewel tones
HOW TO PICK A WEDDING THEME
When considering your wedding theme for your 2022 wedding, you'll need to consider all of the following:
A Venue
The Color Theme
Your Shared Interests
The Season of Your Wedding
Your Budget
Here are a few things to also keep in mind when choosing your 2022 wedding theme:
Your wedding theme should stand out. Bring your cultural background to your wedding. Even if it's a multicultural wedding. There are always ways to bring little detail to make it more unique to the couple.
Your wedding theme should be personal. It should reflect both you and your spouse—and guests should walk in thinking this is so you!
Your wedding theme should be easily recognized by guests. In other words, if guests have to ask what the wedding theme is, you've definitely missed the mark.