Anyone planning a wedding, holiday celebration, or other type of gathering knows that attention to detail is key to pulling off a successful event. Everything from the color palette and event theme to invitations and playlists requires careful selection in order to set the right tone. 
One area of event planning that should not be overlooked is the table arrangement. Tables are the heart of any event space—they are where guests eat delicious food, meet new people, hold conversations, share memories, make speeches, and rest between dances. The right tabletop décor and dishware can make your event one that attendees will never forget.
If you are planning a meal for your guests, our guide to tablescaping will help you create the perfect tablescape for your event.
WHAT IS A TABLESCAPE?
Tablescaping is the art of strategically arranging your tabletop décor and intentionally placing your tables within the event space to highlight a certain mood, theme, style, or experience. The term encompasses everything on and above a table, including centerpieces, dishes, glassware, place settings, and more. 
Although the trend of elaborate, heavily decorated tables has been well documented, minimalist tablescapes are also growing in popularity. Tablescapes are an opportunity for you to determine the style of your tabletop décor, no matter what size or shape your tables are, what food you will be serving, or how many guests will sit around each one. Your tablescape choices should communicate your event theme to your attendees at a glance. 
Fortunately, there are no hard and fast rules to tablescaping. As long as you have the right materials needed for guests to enjoy their food, you can get creative and incorporate your own unique style into every element.
TABLESCAPING ESSENTIALS

Whether you want to create simple tablescapes for intimate dinner parties or wedding tablescapes for hundreds of guests, you will likely need a few basic materials:
Aside from the essentials, you can include a wide variety of other items:
Candles and candlesticks

Floral arrangements

Coasters

Wine and water glasses

Serving dishes

Place cards
Which extra pieces you include are determined by the type of event you are planning. Elegant, formal dinners require several different forks, knives, spoons, and glasses, depending on how many courses there will be. On the other hand, smaller, more casual meals are a great opportunity to mix and match styles and patterns to create something new.
HOW TO DESIGN A TABLESCAPE
Tablescapes can range from simple to complex, and it's up to you as the event planner to decide the tone you want to set for your guests. 
Each item in a tablescape makes a statement and is related to the other items on the table. They are in conversation with one another, and your job is to use those different elements to create a sense of balance and harmony.
As you start brainstorming your tabletop décor, keep these tablescaping steps in mind.
DETERMINE THE EVENT LOGISTICS
Before choosing a color scheme or establishing an event theme, you need to determine the event logistics:
What is the purpose of the event?
Is the event formal or casual?
How many guests will attend the event?
What food will you be serving?
How will the food be served to guests? Buffet style, family style, or plated?
Is there a pre-established event theme to keep in mind?
Where will the meal take place (indoors or outdoors)?
The answers to these questions will help you decide how to move forward.
PICK A COLOR PALETTE
Your tablescape should complement the overall décor of the event. Get inspiration from the event theme and decorations throughout the rest of the event space to narrow down your color choices. The color palette you choose can be used in many different ways, such as in the tablecloth or table linens, runner, napkins, and centerpieces.
Black and white tablescapes and other monochrome color palettes are extremely popular, and for good reason: They are chic, contemporary, modern, and elegant. But if you use a monochromatic color scheme, don't forget to include neutrals! Grays and creams can absolutely fit within a black and white color scheme.
If you are choosing a color palette from scratch, one way to approach the issue is to focus on two main colors. Then, you can incorporate shades of those colors as well as a few additional splashes of color to create a well-balanced color palette.
CHOOSE THE TABLETOP BASE
The base of your tablescape can impact everything else on your table. Choosing the right tablecloth or table runner is an important foundation for all the other items within your tablescape. Your options are essentially endless.
Whatever your table size/shape, event theme, or color scheme, you can find a tablecloth or runner to fit your exact specifications.
CREATE THE CENTERPIECE
The centerpiece is the focal point of your tablescape. Floral arrangements displayed in vases are a classic choice, but now more than ever, the scope of what can be used as a centerpiece has widened considerably. Here are some ideas:
Platters of cut flowers or foliage

Bowls of in-season fruit and vegetables

Collections or candles or candelabras

Displays of antique items

Framed photographs

Living runners made from ivy or greenery
Think outside the box when it comes to creating your centerpieces.
BUILD THE PLACE SETTINGS
Place settings are where your guests will sit, eat their meal, and converse with their fellow event attendees. Carefully consider the items they will need for the food and drinks you are serving. For example, if you are serving a salad course, make sure you include a salad fork in your place setting. Or, if you are offering coffee with dessert, add a mug guests can turn over if they want some caffeine.
Start with choosing a placemat or charger, then add plates and bowls, followed by glasses and utensils, and finally end with napkins displayed on top.
You can also go the extra step with custom printed menus that show your guests what they have to look forward to.
ADD HEIGHT
When your guests walk into the event space, they will view your tablescape from afar. Adding height and layers to your tabletop décor will make your tablescape look attractive both from afar and up close. 
Consider how you can add layers and elements of height to your table. Place settings themselves are often inherently layered, with a napkin on top of a plate which is, in turn, on top of a charger or placemat. Similarly, glasses intended for different beverages vary in height, which will add visual interest to the table. Centerpieces are a good way to create variety, too. Long-stem flowers in tall vases and tall candlesticks are both great options. 
PLAY WITH PATTERNS AND TEXTURES
Texture and patterns are important parts of creating an interesting tablescape. Soft napkins placed on woven placemats, for example, mean your guests will see and feel two different textures at once.
Similarly, a tablecloth with a bold, striking pattern can add excitement to your event space—even if you're using plain white dishes.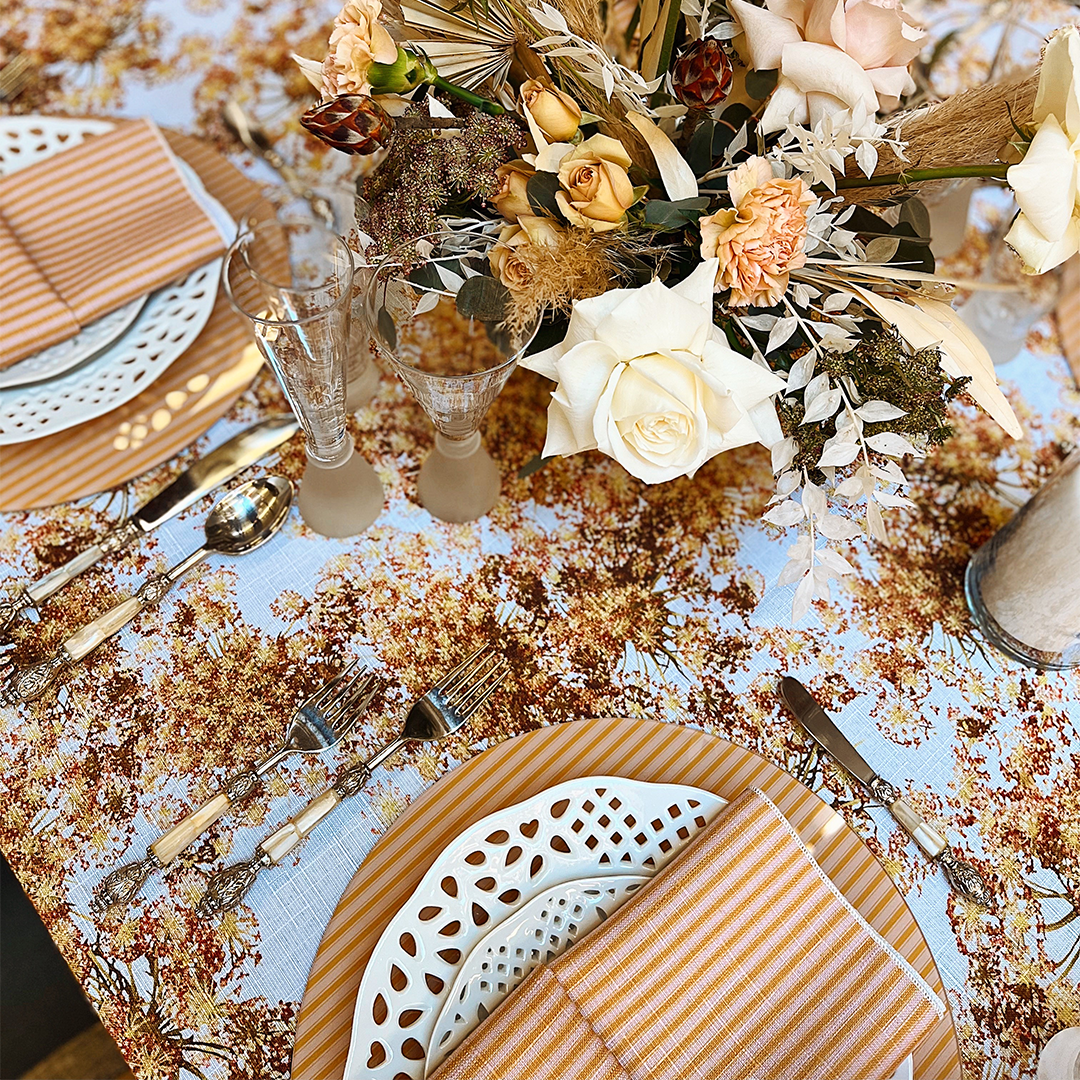 CONSIDER DECORATING THE CHAIRS
While not always necessary, decorating the chairs surrounding your table can create a cohesive look your guests will appreciate. You can tie ribbons and bows on chairs to heighten the romance, add a string of ivy to bring the outdoors inside, or drape chairs in lace for an elegant addition to your tablescape.
KEEP THE LITTLE THINGS IN MIND
Centerpieces, dishes, and table linens are important, but it's the attention to detail that will set your tablescape apart from the rest. What small touches can you add to accentuate the experience for your guests?
Depending on your event theme, you can accentuate your tablescape with any number of elements.
Are you holding an outdoor event? Run strings of fairy lights along the table. For winter holiday meals, add sprigs of holly. Will there be a kids' only table? Use butcher paper as a tablecloth so they can draw or color between courses. Anything is possible.
TABLESCAPE IDEAS
Tablescapes are often based around an event, season, holiday, or theme. Here are some tablescaping ideas to help you get started.
Tablescapes are often based around an event, season, holiday, or theme. Here are some tablescaping ideas to help you get started.
EVENT TABLESCAPE IDEAS
If your event includes a seated meal, the tabletop décor is an excellent opportunity to incorporate the event theme and purpose. Whether you are planning a wedding, a gala, or a corporate event, build a tablescape that wows your guests.
Weddings are all about romance and ambiance. Incorporate candlelight into your wedding tablescape to help create such an atmosphere, whether in the form of tall, flickering candles grouped together or timeless candelabras. 
The centerpiece of a wedding tablescape is another chance to add personalized touches. You can build centerpieces out of photos of the happy couple or inspired by things they love to do together. Place cards and menus are a good option, too. Do they love to travel? Leave a small paper airplane at each place setting with the name tag so guests can find their seat. Are they fans of photography? Scatter disposable cameras along the table for guests to record the evening.
Don't forget about the power of in-season flowers hanging above the table or lining the table runner. Take inspiration from the bridal bouquet and add some extra foliage, fruits, or berries to create a multi-dimensional look.
Table décor at galas and other formal fundraising events should aim for a combination of sophisticated and branded. This is the time for upscale, elegant tablescaping with plenty of candles, fresh flowers, and metallic accents. 
To encourage guests to donate to your organization or company, you need to remind them of who you are and why you are throwing the fundraiser—and tablescaping provides an opportunity to do so. You can, for example, create centerpieces or include other items that reflect the message of your organization. Is the fundraiser for an arts program? Print custom menus and table linens featuring unique pieces from the artists you support. Are you encouraging your fundraising base to protect the environment against climate change? Make sure your materials are sustainable, eco-friendly, and natural.
03 TABLESCAPES FOR CORPORATE EVENTS
Corporate event tablescapes are often facing several challenges at once. The event space is likely a plain-looking venue, attendees need to be able to hold conversations with one another and view speakers on the stage, and all or most of the décor must match corporate branding standards.
To brighten up a boring room, use bold patterns and striking color combinations on your napkins, tablecloths, placemats, or chargers to offset the plain neutrals of the venue. Install unique centerpieces that do not obstruct the view of any guests sitting at the table; huge vases of flowers, while lovely, will get in the way. When it comes to corporate branding standards, consider combining a foundational color with the company color as an accent.
Additionally, corporate event décor is often on the more modern side. You can take advantage of geometric shapes, nontraditional dishware, and other contemporary choices.
04 SEASONAL TABLESCAPE IDEAS
The art of tablescaping can be put to use all year long. No matter the season, you can create a tablescape that is inspired by the weather. 
FALL TABLESCAPES
Autumn foliage is bursting with warm colors that you can use in your tablescape—amber, cream, orange, yellow, maroon, brown, and more. Fall is also harvest season, with plenty of seasonal fruits and vegetables you can display, from apples and acorns to pumpkins and gourds. 
Scarecrows, straw, sunflowers, and autumn leaves can all serve as inspiration for a fall tablescape. Scatter red leaves and small pumpkins across the table, use baskets of apples as centerpieces, or decorate your place settings with sprigs of rosemary and cinnamon sticks.
WINTER TABLESCAPES
It's no surprise that the traditional winter color palette has lots of white, cream, and gray. However, you can add some bold accents like burgundy or greenery to brighten up the space. Metallic touches are also popular with winter tablescapes. Silver cutlery, gold-lined plates, or copper bells can all help make your table sparkle.
Don't forget about the lighting. With winter's shorter and gloomier days, candlelight is key. Candles can add both height and light to your tablescape, so make sure there are plenty to go around.
SPRING TABLESCAPES
The warm weather of summertime is easy inspiration for many different tablescape designs. Take advantage of the natural beauty and bright colors of the sunny season, and prepare your guests for the heat with tablecloths and napkins made out of breezy fabrics like cotton.
HOLIDAY TABLESCAPES
Are you planning a holiday meal? Here are some tablescaping ideas for a few major holidays.
05 Themed Tablescapes
Many events, especially weddings, have a set theme. Your tablescape is an extension of that theme. Here are some ideas for how to incorporate popular event themes into your tablescape.
ELEGANT Tablescapes
Elegant event décor is sophisticated, graceful, and stylish. There are many ways to add a touch of elegance to your tablescape:
Crystal chandeliers and candelabras

Silver utensils set out in advance for several courses

Lots of traditional flowers, like orchids and hydrangeas

Geometric and metallic patterns

Crisp, bright tablecloths
Don't rely on the everyday here. Now is the time to go all out.
BOHO Tablescapes
Boho tablescapes should create a sense of natural, casual beauty. Incorporate lots of texture, like macrame, linen, and lace. Consider dried florals and pampas grass for your centerpieces. Otherwise, focus on varied patterns and nontraditional lighting like rope lights to create a dreamy atmosphere.
When it comes to place settings, choose mismatched dishes, glasses, and chairs. Or, to take things even further, ditch the chairs entirely and use short tables with floor cushions instead to fully immerse guests in the boho-chic vibe.
RUSTIC Tablescapes
Rustic-themed events are relaxed and casual, with décor that is simple, natural, earthy, and quaint. For a rustic tablescape, then, focus on natural materials like burlap and wood, simple patterns like plaid, earthy centerpieces like succulents or greenery, and quaint items like floating candles in jars. 
Place settings are another opportunity to push the rustic theme. Instead of traditional drinkware, provide your guests with mason jars to drink from. Choose linen napkins and burlap placemats. And when it comes to plates and utensils, mix and match styles to create a homey atmosphere. 
Another often overlooked option for rustic tablescapes is the catering menu. Instead of food options printed on paper, write out the menu on small chalkboard signs. 
Finally, when it comes to the color scheme, look to earth tones. Greens, browns, reds, and oranges are all good choices for pops of color among the natural materials.
GARDEN PARTY Tablescapes
Print place cards on floral paper

Choose a garden-themed color palette (greens, neutrals, pastels)

Create centerpieces out of large vases with branches, foliage, and florals

Use natural linens for napkins, tablecloths, and table runners

Find hand-blown glassware or use mason jars for drinking

Hang baskets of flowers or greenery above the table

Slip fresh-picked flowers into each napkin

Incorporate edible flowers into foods and drinks
Take inspiration from the great outdoors and bring elements of natural beauty to every part of your garden party tablescape.
MODERN Tablescapes
When creating a modern tablescape, the goal is to add visual interest without making your tabletop look chaotic.
Modern tablescapes should be edgy, contemporary, and striking. Monochrome is a popular color palette, so choosing a black and white color scheme with a few pops of color is a good way to achieve a modern look. Similarly, find simple, geometric patterns with clean lines for your dishes, tablecloths, or napkins. 
To keep a tablescape with neutral or monochromatic colors from looking two-dimensional, add varied textures, keep accessories to a minimum, and have a few quality, eye-catching pieces to take center stage.
Create the Perfect Tablescape for Your Event
By putting time and attention into designing the tablescape, linens, dishware, and cutlery, you are showing your guests that you care about how they experience your event. These additional touches make a big difference to anyone sitting down for a meal, conversation, or break at your event tables.
Fortunately, you don't have to start from scratch when it comes to creating a tablescape. Our expert design team at Lola Valentina is ready to help you choose the right colors, patterns, themes, and styles for your event. With our custom tabletop décor, you are well on your way to creating an unforgettable tablescape.