When it comes to planning an event, color is everything.
Color will touch every part of your event—from the venue to the décor—and the right colors will set the tone, establish the party's theme, and create a memorable experience for your guests. Your color choices are a critically important part of the event planning process. Carefully select a color palette to set your party up for success.
How to Choose a Color Palette for Parties and Events
A party or event color palette should consist of three to five colors. Generally, the base of the color palette would be your main color, followed by one to three complementary colors (often neutrals) and an accent color. 
Of course, this formula is not set in stone. Keep these tips in mind as you choose a color scheme for your event.
Remember the Color Wheel
Some colors naturally look good together, and other combinations need assistance from neutral tones to be easy on the eyes. The color wheel can help you determine which colors create the right aesthetic for your party.
For example, complementary colors are on opposite sides of the color wheel (like orange and blue), and analogous colors are near each other on the color wheel (like blue and turquoise). A palette featuring these colors may match the tone you want to set—provided there are some less vibrant colors in the mix. 
Consider the Venue
Don't forget to take your venue into consideration when choosing your party color scheme. Some venues have strong color palettes of their own that you need to take into account, and others can benefit from careful color choices. You can make a closed-off event space look airier and more open with light colors, for example, or use darker colors to make a large space feel cozier.
Establish the Event Theme
Your event or party theme will naturally impact your color palette. Use the colors to support and emphasize your theme. 
If you're having a beach-themed party, look to tropical patterns, ocean blues, bright yellows, and soft creams to create that seashore vibe. Or, if your event theme is on the modern and edgy side, a monochromatic or gold and white combination may be more your style.
Set the Tone
The colors you choose will set the mood and atmosphere of your event. Dark, cool colors create a sophisticated look, soft pastels make the tone seem more romantic, and bright, warm colors build energy and intensity.
Consider how your color choices will affect the tone of your party and the mood of your guests.
Think of the Event Purpose
Whatever the purpose or goal of the event, your color palette—if done right—can support it.
If, for example, you are planning an event for a company, incorporate the colors of the logo or company brand into the color scheme. By using company colors throughout the venue and décor, you are creating a connection in the mind of your guests without saying a word.
Look to Nature
For an endless source of inspiration, look to Mother Nature. There are infinite color combinations in the great outdoors. Wherever your party is based, what natural elements are visible? What landscapes have the same tone and feeling that you want your event to evoke? Use the colors of nature as the base of your color palette and go from there.
Best Colors for Events and Parties
Use these ideas as a starting point to create the best color scheme for your event or party.
Monochrome Color Palettes
Monochrome or monotone color schemes highlight one color and can be used to create elegant, minimalist event spaces.
01 All Neutral
Stick with neutral colors—shades of black, gray, and white—to create a modern, sleek atmosphere. There's a reason black and white color palettes are a classic choice.
02 Varying Shades of a Single Color
One color in varying shades creates an unforgettably stunning aesthetic. Choose a color that fits your party's theme or the company's brand and take advantage of its many different shades.
Two-Tone Color Combinations
Two-tone color combinations feature two colors that pair well together. Mix them with neutral hues to let these colors shine.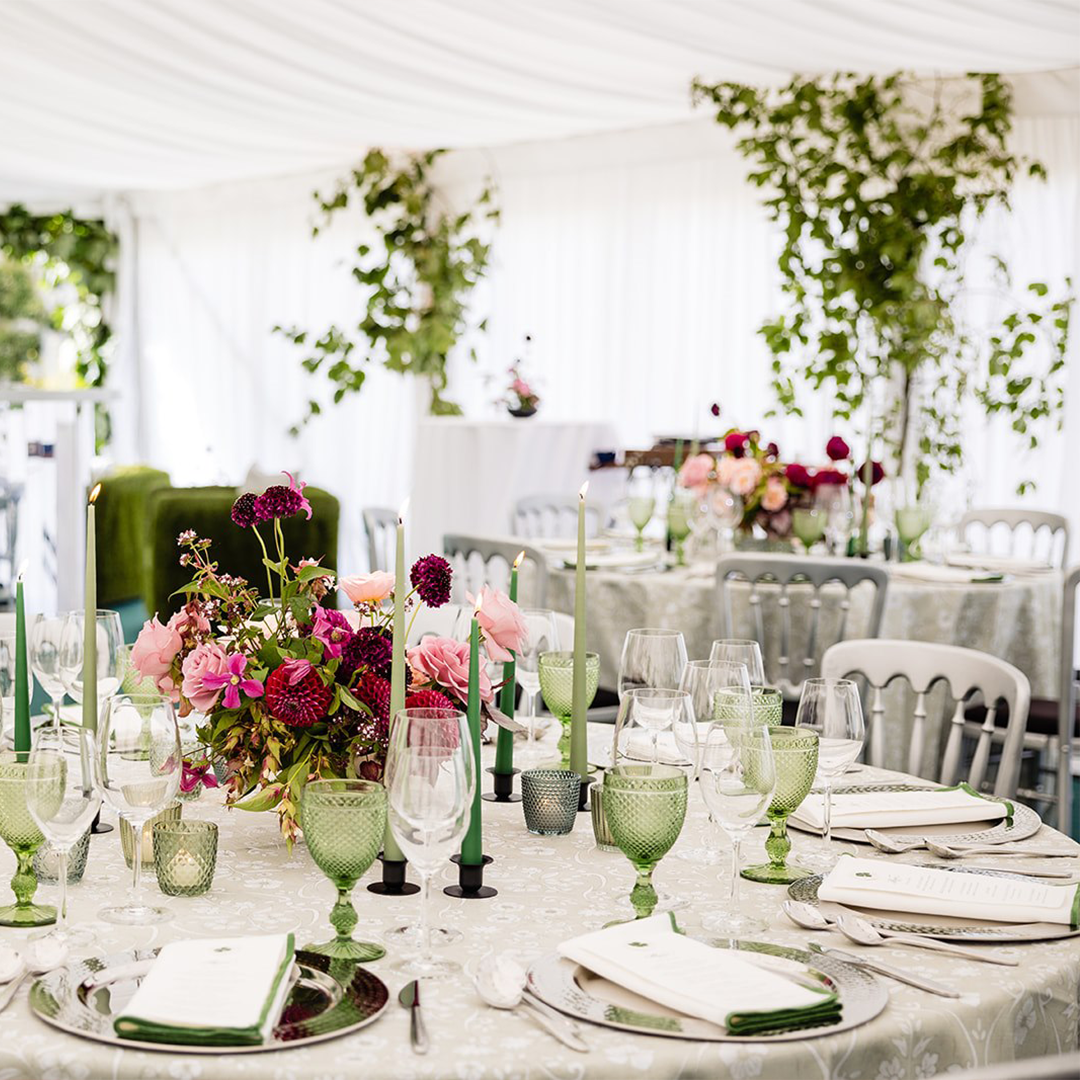 03 Gold and Black 
Gold and black is a timeless, sophisticated color scheme—which makes it easy to find decorations and tableware to match.
04 Blush Pink and Sage Green
Inspired by floral prints, blush pink and sage green is a beautiful combination that would be perfect for a garden tea party.
05 Bright Orange and Teal
For a fun and contemporary choice, go with bright orange and teal. This vibrant duo brings a touch of originality to any event.
06 Gold and White
A modern twist on the classic gold and black color scheme, gold and white looks good all year round.
07 Red and Black
Red and black creates a sense of professionalism and will make any event venue look chic.
Three-Tone Color Schemes
A trio of colors gives you lots of options to decorate your event or party venue.
08 Orange, Green, and Cream
For a natural and autumnal look, pair soft orange with a deep green and bright cream. 
09 Shades of Blue with Cream
A few shades of light blue combined with cream gives parties a vintage feel and is the perfect choice for informal gatherings.
10 Red, Brown, and Orange
For a rustic or country-themed event, you can't go wrong with rust red, earth brown, and burnt orange.
11 Blush, White, and Gold
An elegant and romantic choice, blush and white with a gold accent is a contemporary take on a classically feminine color palette.
Natural Color Palettes
You can't beat the color schemes found in the great outdoors.
12 Brown, Green, and Cream
Brown, green, and cream is a color combination that takes inspiration directly from nature—think trees, forests, woodlands.
13 Orange, Brown, and White
When it's time for trees to change the color of their leaves, choose colors like orange, brown, and white that complement the vibrant outdoors.
14 Sage Green, Blush Pink, and Eggshell White
The softness of sage green and eggshell white is an understated way to incorporate natural greens into your color palette. With the addition of blush pink, you're ready to decorate with florals and foliage.
Seasonal Colors
Keep the season in mind as you choose colors for your event or party color palette.
15 Light Pink and Peach for Spring
Spring is all about pastels. Consider a light pink and peach color palette to emphasize the season.
16 Lemon and Lilac for Summer
Bright lemon and lilac is a classic color combination for the warm summer months.
17 Burgundy and Purple for Autumn
Jewel tones, like burgundy and amethyst purple, are perfect for parties in the fall.
Navy and ivory is a winter event combination that works well against any snowy, gray landscape.
Ideas for Using Your Color Scheme in Party or Event Décor
Now that you have an idea of what colors to include in your event color palette, it's time to consider how to incorporate them into your party décor.
Here are some ideas to help you get started.
Flower Arrangements
Florals and foliage come in a variety of colors. Select flowers arrangements and other natural decorations that reflect the color scheme of your party. Whether you use florals as centerpieces or hang them from the ceiling, your guests will appreciate your use of color.

Chair Sashes and Pillows
Seating is a unique and interesting way to incorporate color. Add a splash of color to an otherwise boring piece of furniture with sashes or pillows.
Food and Drinks
The food and drink options at your party can be colorful, too. Decorate cookies and cupcakes with colorful frosting or icing, display a platter with an assortment of colorful fruit, or create cocktails that fit the event theme. 
Tableware
Dishes, cutlery, placemats, chargers, napkins—these decorative and useful items are an excellent way to add a splash of color to your tablescape. Serving food on placemats or chargers that match the event's overall color palette ensures your guests are reminded of your party theme with every bite.
Table Linens and Runners
Table linens and runners don't just protect your tables from food and drink spills; they are also an opportunity to incorporate more of your chosen colors into your event decorations. Whether you choose patterned or solid fabric, your table linens and runners will draw the eyes of anyone who enters the room.
Straws
Don't forget about the little things! Colorful straws are a great touch. Find straws that match your event color palette to incorporate some color into every drink.
Balloons
Balloons go hand in hand with parties for young children, who can take them home as party favors, but they also have their place at professional events as centerpieces or entrance markers. However you decide to include balloons, they are an easy way to bring color to any part of your event.
Lighting
Pair the lighting of your venue with undertones from your color palette. It's an elegant way to ensure guests sense the event theme at every level. For example, a bit of blue or purple underlighting goes well with bright light, and the reddish-orange, warm light of lanterns creates an unforgettable atmosphere at outdoor or rustic parties.
Create Custom Event and Party Décor at Lola Valentina
At Lola Valentina, we are ready to help you incorporate your color palette into every aspect of your event décor—from table linens and runners to placemats, chargers, pillows, napkins, and more. Shop our revolutionary design house to mix and match our selection of original designs, or work with our team of in-house designers to create a custom pattern that matches your event color palette. Visit our design bar to explore color and pattern combinations until you find just the right look for your party.
All our items are environmentally conscious and proudly crafted in the United States.
Are you ready to bring your color palette to life? Talk to a designer today to get started.